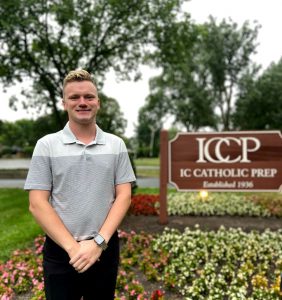 On behalf of the Pastor and the IC Catholic Prep (ICCP) Board of Directors (Board), we are delighted to announce Brendan Marshall as the new Director of Marketing and Communications of IC Catholic Prep effective August 2021.
"Brendan brings with him a background in Catholic education as well as a positivity that is infectious. I am thrilled that Brendan's creativity, excitement, and marketing experience in the public and private sector will allow us to best share the stories of success, growth, and vitality of IC Catholic Prep. It is an honor to welcome Brendan to our community and team."- Nikki Kanzia, President of ICCP
Before joining the IC Catholic Prep Community, Brendan has proven his marketing and communication skills in the auto industry for Chevrolet, Volkswagen, and Hyundai and most recently in the elementary school system serving as a Marketing & Communications Director. Brendan comes to us with a creative mind and eager excitement for new ideas. With a vast background of ICCP family members as alumni, Brendan is no stranger to the IC community. Brendan attended St. Francis High School in Wheaton, Illinois, and continued onto Loras College receiving a B.A. Degree in Public Relations and Media Studies. While attending school, he maintained an internship as Director of Marketing for McGrath Family of Dealerships and worked on the Loras campus in Admissions. Brendan graduated in May 2020 and has since moved downtown Chicago. He looks forward to pursuing continuing education soon.
"IC Catholic Prep has proven itself to be a lively and welcoming community. I am very thrilled to begin a new adventure here and continue the Knight legacy and spirit. I am thrilled to work on new projects and improvements in such a great environment. After attending over 15 years of private education, I am so thrilled to work in a field I have learned to cherish over the years. I am excited to put my creativity and innovative ideas to the test!".
Please join us in warmly welcoming Brendan Marshall in his new role in the IC Catholic Prep family.