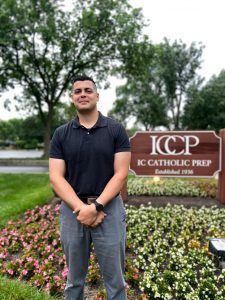 On behalf of the Pastor and the IC Catholic Prep (ICCP) Board of Directors (Board), we are delighted to announce the selection of Bryant Romero as the new Director of Admissions of IC Catholic Prep effective August 2021.
"Bryant brings a sincere passion for Catholic education and deep knowledge and understanding of the high school admissions process.  His commitment to family and community is a gift to our future and current IC Catholic Prep families.  I am looking forward to continued growth for our ICCP community with Bryant Romero as our Director of Admissions". 
With over five years of admissions experience and ten years in the workforce, Bryant has served as an education advocate and qualified recruiter.  Before joining the IC Catholic Prep Community, Bryant served as the Senior Admissions Coordinator at his alma mater of St. Lawrence Seminary High School in Mount Calvary, Wisconsin. Bryant's commitment to St. Lawrence stands strong even traveling across the country visiting potential families and representing the school. We are excited and thrilled to have his energy, creativity, and drive a part of the ICCP community. Bryant holds a degree background from DePaul University with a B.A. Degree in Healthcare Studies and a member of the Phi Theta Kappa Honor Society.
"In my first few days here at IC Catholic Prep, I can wholeheartedly say that it is a welcoming community!  The faculty, staff, and students have shown tremendous hospitality towards me.  Having previously worked at a Catholic Boarding high school for about 5 years, I was really excited about this wonderful new opportunity as Director of Admissions.  In the past, I understood and utilized the value of having ambassadors in current students and families.  Here at IC, the students are more than ready to lend a helping hand to a student in need.  I'm forever grateful for this wonderful opportunity and feel tremendously blessed to be able to serve this community".
Please join us in warmly welcoming Bryant Romero in his new role in the IC Catholic Prep family.  
Sean McMillen '93

Board Chairman

Very Rev. Thomas Paul, V.F. K.H.S., Pastor

Immaculate Conception Parish