Be a Beacon of Light
During Catholic Schools Week
Catholic Schools Week Lanterns on Sale
IC Catholic Prep and the Immaculate Conception Grade School Parents' Club ar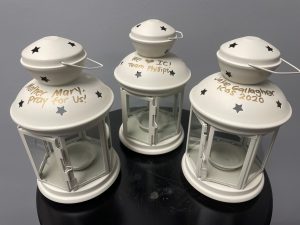 e joining together to showcase the vibrancy of our collective IC community. During Catholic Schools Week (January 31- February 6) we will adorn the North Lawn with 400 beautiful, white metal and glass lanterns to celebrate the uniqueness of Catholic education.
Lanterns are on sale now through Thursday, January 28 for $30 a-piece.
Purchase one for each of your children at IC, honor a teacher, thank a parent or remember a classmate. Each lantern can be personalized with up to 24 letters handwritten in gold ink.
After the Catholic Schools week display, the lanterns will be available for pick up.
Yes! The minimum donation per luminary is $30, but you can always donate more. All proceeds will be directed to your designated school(s) to assist with current needs.
CAN I DESIGNATE WHICH SCHOOL RECIEVES THE PROCEEDS FROM MY PURCHASE?
Yes! You can select which school benefits from your lantern purchase by selecting the check box under SCHOOL DESIGNATION on the form above. You are free to select IC Catholic Prep, Immaculate Conception Grade School or to split your purchase equally between the two. 
IS THERE A LIMIT TO THE NUMBER OF LANTERNS I CAN PURCHASE?
No! You can purchase as many lanterns as you want. If you wish to purchase more than five, you can either do several transactions, or call 630.530.3491 and we can assist you with your purchase. However, there is a cap at 400 luminaries total. Make sure to buy early so supplies don't run out. 
HOW LONG WILL THE LANTERNS BE LIT?
Lanterns will be lit on Sunday, January 31 and will remain lit until Saturday, February 6. We encourage you to walk around the lawn and see this very visual reminder of the strength of our IC Community.
There will not be an official lighting due to current COVID-19 restrictions. Lanterns should be lit every evening between 5 pm and 10 pm. Please remember that masks need to be worn and socially distancing observed when on campus.